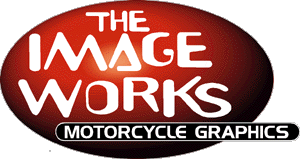 Helmet Graphics
We have only shown a few helmet designs to illustrate what is possible. Most people prefer to have their helmet design unique to them, therefor most of the designs we do are designed individually, after discussions between our design team and the customer.
PLEASE NOTE:- NOT ALL HELMETS ARE SUITABLE FOR THE APPLICATION OF GRAPHICS. IT IS UP TO THE CUSTOMER TO ESTABLISH THE SUITABILITY OF THEIR HELMET. THE IMAGE WORKS ACCEPTS NO RESPONSIBILITY FOR THIS DECISION.
If you have a helmet that was fitted with our graphics please contact us as we would like to include it on our website, in order to help future customers.
If you can't see the design you would like, and would like to discuss your ideas, please contact us.
If you would like to contact us with any enquiries please click here

Back to Bikes Page

Back to The Image Works Home Page
---
This page was last updated on 19 October 2008 21:27